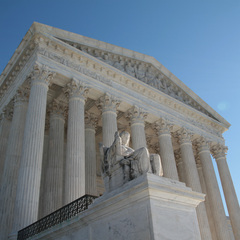 Transparency & Implementation of Janus Rights
Despite a clear and decisive ruling by the Supreme Court in Janus v. AFSCME that frees public employees from being forced to pay a government union, some states will need to revisit current regulations and statutes that may prevent workers from exercising these rights.
In anticipation of the Janus decision in June 2018, union leaders were aggressively working with lawmakers and administrations in certain states to make it more difficult for employees to exercise their rights in the event that Janus prevailed. This effort resulted in the erection of numerous arbitrary barriers that workers face as they attempt to opt-out of union membership.
Workers for Opportunity is working with policymakers and administrations to remove these barriers that limit employees' abilities to exercise their rights and ensure that employers have verified affirmative consent from employees before deducting union dues. These barriers include restrictive and confusing opt out windows, limitations to how information is shared with union workers and other deliberately confusing restrictions.
The Problem: A New Jersey Case Study
On May 17, 2018, more than a month before the Janus decision, New Jersey Governor Phil Murphy signed into law Assembly Bill A3686. Intended to preempt the June 27 Supreme Court decision, the law unreasonably limits a union member's ability to resign to "the 10 days following each anniversary date of their employment."
The Solution
The Public Employee Rights & Reauthorization Act (PERRA) is model legislation that will will help states comply with the Supreme Court's decision in Janus v. AFSCME by codifying rights for all employees granted by the Janus decision. PERRA puts the Janus decision into state law, guaranteeing that public employees can exercise their right to stop paying a union at any time. Further, it also allows public employees to make an informed decision regarding their rights by requiring unions to provide evidence that their members signed up to pay dues after being informed of their rights in light of Janus.
Beyond PERRA, states can also examine their regulatory boards and means of oversight over labor relations to determine whether additional reforms are necessary to ensure that worker rights are protected.
The People: A Union Worker Case Study
Meet William Neely, a state hospital psychiatric aide in Berks County, PA., who submitted his union resignation letter following the Janus decision. After being stonewalled, he finally learned that his union contract included a "maintenance of membership" clause that prevented him from resigning until a 15-day "window" opened in June 2019.
State Highlights
Workers for Opportunity is working with state leaders to reexamine these various state policies to determine if any may be in violation of the Supreme Court's expressed intent, which states that any collection of union dues or fees from an employee may only occur after the employee has provided clear and affirmative consent.
In 2018 lawmakers in Pennsylvania introduced Senate Bill 1278 which among other things would repeal unconstitutional statutes that allow some public sector unions in Pennsylvania to collect fees from employees even if they choose to decline union membership. It would bring Pennsylvania state law in line with the Janus decision. The Supreme Court in Janus found that requiring a non-consenting public employee to pay these fees, known as "fair share fees," violates the First Amendment rights of workers. Senate Bill 371 which has a similar provision was introduced in 2019.

Workers for Opportunity has been working to help advance legislation, like SB 1278 in Pennsylvania, to protect workers like William Neely. Workers for Opportunity labor policy expert Vinnie Vernuccio testified at an October 25, 2018 committee hearing in support of the legislation.

In Kansas, State Senate Bill 175 will ensure public employees are informed about their First Amendment right not to pay union dues or fees and further allows them to exercise this right at any time during employment. In collaboration with the Kansas Policy Institute – helping to spearhead the effort on the ground - Workers for Opportunity labor policy expert Vinnie Vernuccio testified at a March 18. 2019 committee hearing in support of the proactive legislation, where he stated: "If a public employee chooses to exercise their right, the state, school district or local government should immediately stop collecting dues and inform the union. The public employee's financial obligation to the union should end immediately and no debt should be allowed to accrue."

Vernuccio frequently cites Justice Samuel Alito's opinion for the majority in the Janus case which stated: "States and public-sector unions may no longer extract agency fees from nonconsenting employees" and that "(n)either an agency fee nor any other payment to the union may be deducted from a nonmember's wages, nor may any other attempt be made to collect such a payment, unless the employee affirmatively consents to pay."